From Time To Time
GROTTO – Städelschule Graduation Exhibition
Danziger Platz, 12
Frankfurt am Main, DE
14.07 – 30.07.2023



Work granted with the
Städelschule Portikus e.V. Graduation Prize
.
Jury:
Devrim Bayar (Curator, KANAL - Centre Pompidou), Lutz Behrendt (Representative, Städelschule Portikus e.V.), Dr. Ana Pohl (Managing Director, Sammlung Pohl), Prof. Yasmil Raymond (Rector, Städelschule and Director, Portikus).
GROTTO included works by 32 graduates of the Städelschule:
Larry Kojo Akodor aka Bonćhaka, Offert Albers, Arhun Aksakal, Elisaveta Braslavskaja, Camille Clair, Tugce Dayioglu, Albert Dietrich, Aires de Gameiro, Rahel Goetsch, Lisa Gutscher, Paul Haas, Ishmat Habib, Louis Hay, Samuel Baah Kortey, Julian Krause, Line Lyhne, Tomás Maglione, A.M., francisco m.v., Richard Najorka, Anna Pezzoli, Aline Sofie Rainer, Eva George Richardson McCrea, Brandon Rowland, Gintarė Sokelytė, Hilda Stammarnäs, Lisa Strozyk, Simon Shim-Sutcliffe, Jia Jun Nicholas Toh, Alyona Volkova, Ian Waelder, and Alicja Wysocka.
Graduating students from the classes of Monika Baer, Gerard Byrne, Willem de Rooij, Judith Hopf, Hassan Khan, Tobias Rehberger and Haegue Yang.
The exhibition is accompanied by a publication.
Text about the work:
---
"The work displayed for my graduation first shows a modification of the space. A wall has been constructed, and an intervention has been realized in the ceiling. As the viewer enters and walks through a corridor, they hear someone is whistling in the back of the space.

From Time to Time (2022-2023) is a site-specific work composed of two switched-on car headlights and suspended in the middle of the room, at the height of my eyes. Each of them points to one wall. The headlights are from an Opel Olympia from 1935, a model my grandfather and his family owned in Stuttgart at the time. This vehicle was of key importance for his escape in 1939, four months after the Kristallnacht.

My grandfather, Friedrich Waelder, was a jazz pianist and photographer from Stuttgart. He exiled to Chile –where he changed his name to Federico– and lived in Antofagasta until his death in 1989, still under the Pinochet dictatorship. In 2017, by moving to Frankfurt for my studies in Städelschule, I marked the first generation of my family to return to Germany after his escape.

The sound piece one hears in the background, As Far As I Can Recall (2022), is a one-take recording of myself whistling from memory the only existing trace of my grandfather's music: a 7-minute-long recording of a piano improvisation that my father found years ago in a cassette. The whistling piece lasts 13 minutes.

The dim-lighted space has shadowed corners and other spots where small format sculptures have been installed. With the series A Nose Is A Nose Is A Nose (2022 - Ongoing), I sculpt different noses following the fixation of my father on the "family nose" that was transmitted from his father to himself, and he's seen it in my siblings, nephews and myself as we grew up.

Lastly, a gelatin silver print taped to the wall, 1993 – (2023), shows the image of a plant gifted to my parents the day I was born. This plant is still with them in the their house, where I spent all of my childhood in Spain. Every time I visit them, I take a full roll of film documenting the growth and changes of this plant that has been growing and being taken care for in parallel to me for the last thirty years."


– Ian Waelder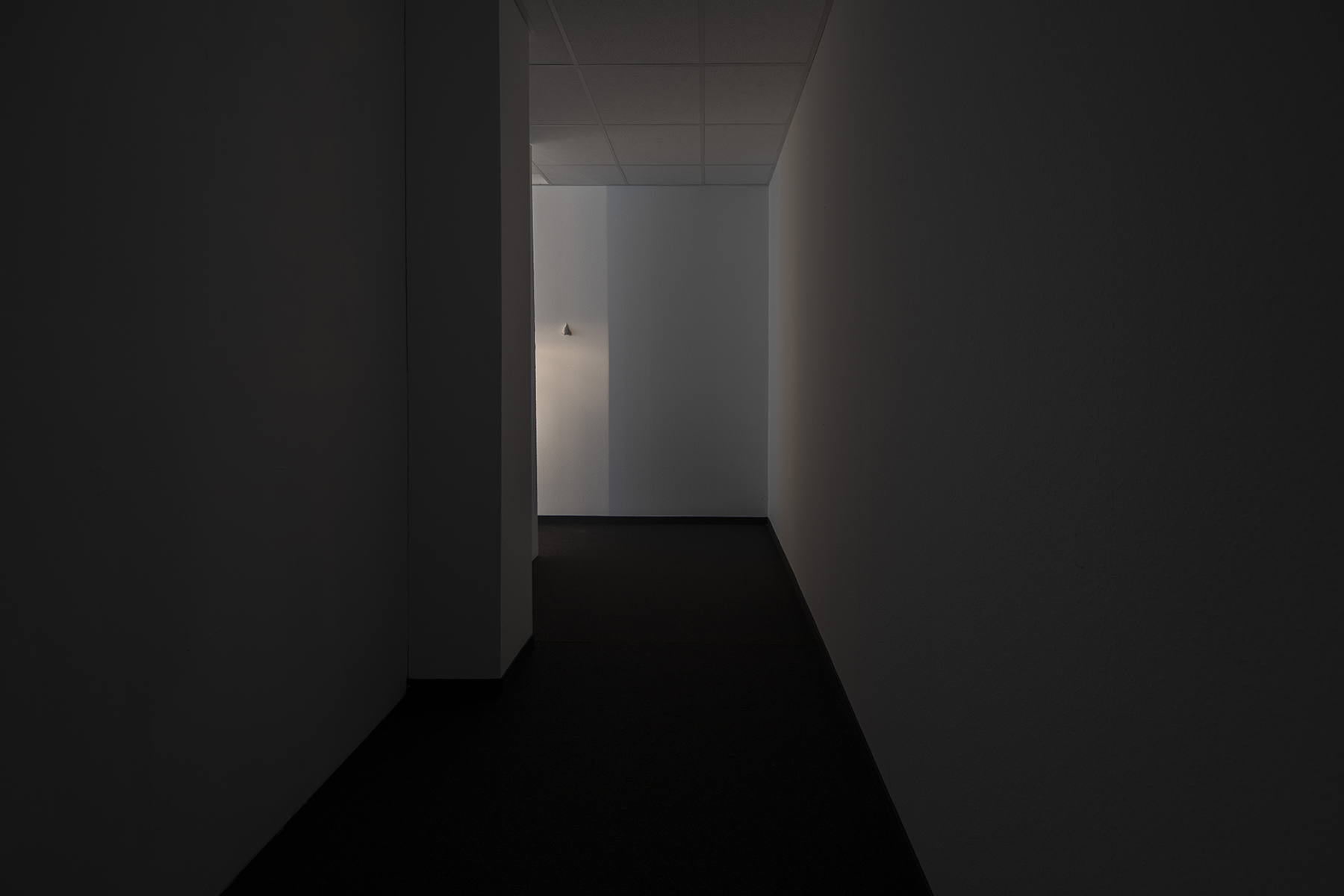 List of works

---
---

Installation views by Ivan Murzin.